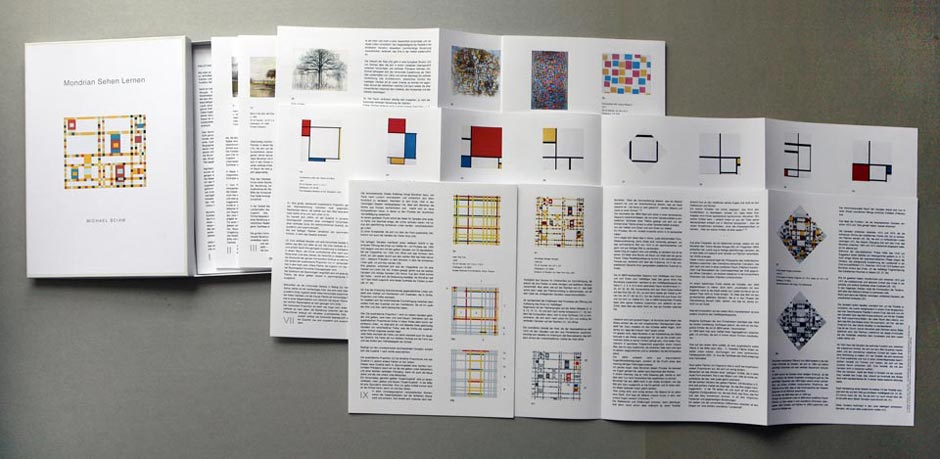 This section shows a lighter version of Sciam's studies on Mondrian. The text here is in Italian.
Sciam: «With a more synthetical text I wanted to convey in a more direct way the basic idea of my work, that is to say, to show the Dutch Master's entire oeuvre as a continuos process od evolution.
Piet Mondrian's work was the patient pursuit of an image capable by itself of expressing his feeling for life in clear and precise form.
It makes no sense to isolate individual paintings from this context, which is a dynamic process with no break in continuity.
It is necessary to see the space that slowly evolves from one painting to another: from the dunes, the buildings, and the trees all the way to Broadway and Victory Boogie Woogie.
It will be necessary one day to hold a great exhibition displaying the work as a whole and explaining its more substantial meanings. We cannot go on showing Mondrian in separate fragments. The exhibitions held so far can be compared to a piece of music with the individual notes played in different places at different times. In the few cases where it has proved possible to gather a substantial and significant group of works together in a single exhibition, full advantage has not been taken of the opportunity to provide insight in this respect.»
«L'opera di Piet Mondrian è stata la paziente ricerca di un'immagine che potesse da sola esprimere in forma chiara e determinata il suo sentimento per la vita. Non ha alcun senso isolare dei singoli dipinti da questo contesto che è un processo dinamico senza soluzione di continuità. Bisogna vedere lo spazio che fra un dipinto e l'altro lentamente evolve: dalle dune, dalle architetture e dagli alberi fino al Broadway ed al Victory Boogie Woogie.
Bisognerà un giorno fare una grande esposizione in cui mostrare l'opera nel suo insieme spiegandone i significati più sostanziali.
Non si può continuare a mostrare Mondrian per singoli frammenti.
Le mostre che si sono allestite fino ad ora si possono paragonare ad un brano musicale le cui singole note siano state suonate in luoghi e tempi diversi. Anche quando vi è stata l'occasione di raggruppare in una sola esposizione un cospicuo e significativo gruppo di opere non si è, purtroppo, saputo spiegare più di tanto.»
Published by the artist himself, this version has been sent to several museums, private and public institutions as well as artists, art critics and historians in Italy, and Switzerland.
Further notice on this will be published at a later stage.